AMERICA'S HIGHWAY ATTRACTIONS AND SOUVENIRS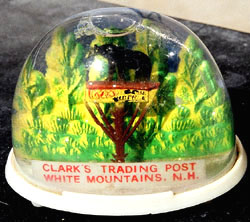 Clark's Trading Post
White Mountains, N.H.
Roadside travel is not what it used to be. Not by a long shot. Travel across America, in the early days was fun and a new adventure was found around every turn in the road. Between 1915 and the late 20's, and again after World War II, family highway travel was helped along by promotions from the Oil companies like Texaco, Mobil, Sunoco, Gulf and Phillips 66. Special devices were used like trained bears doing tricks, free marriages, interest free credit cards or at the very least, free road maps were used to lure travelers onto the roadways.
From these beginnings "auto gypsies" or "auto-bummers" (Highway Hangouts, 1997), as they first were called, stayed in tents at tourist Parks. Once these state and city supported parks caught on, numerous motels and Mom and Pop attractions began to spring up. As motels emerged from Tourist Parks many had to get the traveler's attention. Indian Head Motel in Lincoln, New Hampshire added a 72 foot lookout tower. "For ten cents you could get quite a view" (Highway Hangouts, 1997). Early roadside architecture of signs, motels and gas stations began to take the form of imaginative shapes and symbols. The Wig-Wam Motel in Southwestern California's Cave City had tee-pee shaped cabins. A huge cowboy hat, a giant boot, a life size dinosaur, an oversized Uncle Sam, a towering Paul Bunyon and the Ox, Babe, or a full size B-2 Bomber were some other examples of these fun architectural treatments.
As the number of cars hitting the highways increased, so did the highways themselves. Turnpikes, Toll-ways and Thruways were born. Oklahoma, Indiana, Kentucky, Pennsylvania, Illinois, New Jersey and New York all established these first pay as you go turnpikes.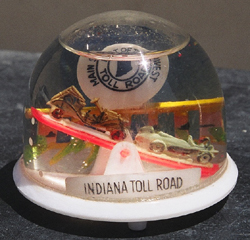 Indiana Tollroad
Main Street of the Midwest

While there were thousands of restaurants and refreshment stands, they needed to stand out from the rest to attract the numbers of tourists now coming by. So, entertainment, animals and characters were added to distinguish themselves from the rest. Many early amusement type parks also sprung up. Some of these early roadway attractions are still in operation today. Clarks' Trading Post in Lincoln, New Hampshire, http://www.clarkstradingpost.com/, South of the Border in Dillon, South Carolina(see below), http://www.pedroland.com/, and Wall Drug in Wall, South Dakota http://www.walldrug.com/, have entertained and sold many thousands of tourist souvenirs. These three establishments had the basic formula for many others to come. Pennants, window decals, and snow domes as well as hundreds of other types of souvenirs were sold with the names of the establishments on them.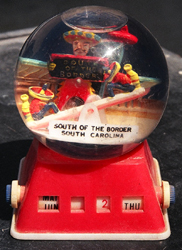 South of the Border
South Carolina

Famous landmarks, museums, caverns and caves, missions or old homes of famous people sold them. Then, also, there were special events, like World's Fairs and International Expositions and scores of wonderful souvenirs came from these as well. Spoons, plates and platters, salt and peppers, souvenir buildings, tablecloths and scarves. You name it.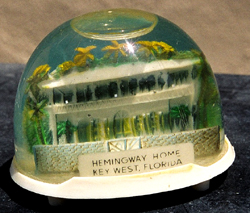 Hemingway Home
Key West, Florida

These highway hangouts, (Highway Hangouts, 1997), added new character to the American roadside. Themes like trains rides, miniature golf, gardens, trained bear acts, animal parks and storybook castles got more and more unusual and fantastic in their signage and architecture.
Larger flashier road signs were needed. The birth of the "Burma Shave" successive roadway signage system was copied by Wall Drug and others to get the traveler to buy a product or turn off the highway for some refreshment or entertainment.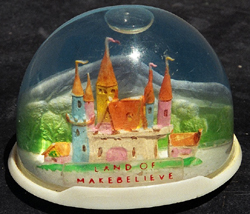 The Land of Make Believe
located in Upper Jay, NY

Some of the great, early and classic amusements were:
The Land of Make Believe, located in Upper Jay, NY, http://members.aol.com/bill222e/lofmb/, where there were many little houses, indeed, a whole miniature town was built at 75% scale. Trains ran through the town participation and interaction with all of it was encouraged.
The Enchanted Forest in Elliot City, Maryland. A Mother Goose and Fairytale themed Park.
Souvenirs offered here were: Post cards, Snow Domes, Plates, Pennants, Steins, Pitchers, Glasses,
http://www.norvapics.com/profile.htm#enchantedforest.
Grotto of Redemption in West Bend, Iowa. http://www.roadsideamerica.com/attract/IAWESgrot.html
Dickeyville Grotto in Dickeyville, Wisconsin. http://www.roadsideamerica.com/attract/WIDICgrotto.html
North Pole, N.Y., A family road trip in the East at wintertime wasn't complete without stopping here which housed the largest collection of Santa Claus and Christmas memorabilia.
Frontier Town in Ocean City, Maryland. http://www.norvapics.com/profile.htm#frontiertown
Dinosaurland on Highway 522 sold Bumper Stickers, Postcards, Miniature Cedar Safes, Belt Buckles. http://www.dinosaurland.com/.
Dinosaurland is also the name of a collection of a number of real archeological attractions in Vernal, Utah.
http://www.dinoland.com/main.html.Glen Echo Park in, where else, Glen Echo, Maryland, and amusement Park with Bumper Dodge 'em" Cars, Coaster Dips, Sand Lot, Skee-Ball, Sky Trolley,
Crystal Pool, Aero plane, Miniature Golf and Dancing sold Postcards, Pennants, Pinbacks (buttons), Decals, Snow Domes and Knives. http://www.norvapics.com/profile.htm#glenechopark
National Fresh Water Fishing Hall of Fame in Hayward, Wisconsin.
http://freshwater-fishing.org/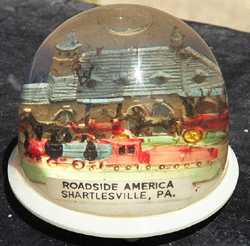 Roadside America
Sharletsville, PA
While many of these tourist places survived, many did not. As the modern superhighways developed, so did the demise of many great Mom and Pop roadside attractions.
In 1956 The Highway act under President Eisenhower led the way for hundreds of interconnected Interstate Highways. By 1957 there were 65 million cars on the road. 41, 000 miles if these highways were built. By 1960 travelers across America were traveling 400 billion miles annually, (Highway Hangouts, 1997). These, in many cases by-passed the old roadside attractions. So newer amusement parks like Marriot's and Six Flags were built adjacent to the Interstates. But, "our fascination with roadside adventure traveling is the stuff of our dreams" (Highway Hangouts, 1997). While this development got us to and from our state-to-state destinations with some exciting destinations, it also led to the end of this nostalgic roadside era. For the most part, the Interstates were, and still are filled with the sights of corporate motels, hotels, restaurants and gas stations.

Route 66 still supplied some of that nostalgic yearning of the open road. But for the most part, these new highways spelled the end of an era of great roadside attraction architecture, unusual characters and their kitche souvenirs.
I personally traveled across the county twice. Once in 1961 by car and again a few years later in a camper-pickup. Each trip was fun and unique in it's own way and the memories linger on. Souvenirs were gathered from time to time, but the best ones I've collected from the early 90's through trading with friends and bidding for them on Ebay.
Today, the car culture and the American Road is still deep in the heart of today's souvenir collector. Experiencing these highway travels doesn't go away easily. These old souvenirs themselves, especially from the 50's to the 70's, help to regain these early, wilder adventurous memories. Many are available today, fortunately through clubs, other collectors and now through online auctions like http://www.ebay.com.